Welcome!
Women in Tech Summit attendees - we are Aroha Bowl and we are extremely pleased to feed you!


Hello, nice to meet you!
You are here probably because you just scanned the QR code from the pokē bowel lid and want to learn more about this tasty dish. That's great for you - we love to tell the world about our pokēs!
An important note to start with: all the dishes we are serving today are 100% vegan. Their basic ingredient is the Famous Aroha Rice, prepared in the style popular in the antipodes. The unique combination of toppings and our proprietary sauce (go ahead, pour it over the contents of the bowl!) are responsible for the unforgettable flavour of each bowl.
Like most other ingredients, the sauces are prepared by our hands in a small kitchen in Warsaw's Mokotów district, based on authentic Pacific recipes. The closest place where you can experience the same flavours is only on the other side of the world!
Enjoy!
Teriyaki Jackfruit Pokē
This pokē bowl features exotic, tender jackfruit cooked in teriyaki sauce with an insane combination of vegetables and fresh pineapple.

Ingredients: jackfruit grilled in teriyaki sauce, pineapple, edamame, red cabbage, carrots, tomatoes, roasted onions, sesame + miso-tropical sauce.
424 kcal, protein 11g, fat 13g, (saturated 3g, monounsaturated 2g, polyunsaturated 3g, including omega3 - 0g, omega6 - 1g), carbohydrates 70g (sugars 17g), fiber 8g, salt 2g, cholesterol 0g. Allergens: cereals, soybeans, sesame seeds.
Mātātā Falafel Pokē
New! This is a unique bowl, a truly limited-time offer. An unexpected combination of falafel, mango and miso mayonnaise that will satiate even the biggest gluttons.

Ingredients: falafel, mango, carrot, cucumber, daikon, tomatoes, miso mayonnaise, sesame + shoyu-sesame sauce
721 kcal, protein 21g, fat 33g, (saturated 5g, monounsaturated 3g, polyunsaturated 4g, including omega3 - 1g, omega6 - 3g), carbohydrates 85g (sugars 20g), fiber 14g, salt 2g, cholesterol 0g. Allergens: soy, sesame seeds.
Rimu Tofu Pokē
Indulge in extraordinary umami tofu - it's full of flavor as it's carefully sautéed with a mixture of algae and spices. Top it off with goma wakame salad and other Far Eastern specialities! Slightly spicier than the other bowls.

Ingredients: Umami tofu, mango, goma wakame, daikon, edamame, tomatoes, sesame + shoyu-sesame sauce
682 kcal, protein 23g, fat 35g, (saturated 6g, monounsaturated 6g, polyunsaturated 5g, including omega3 - 0g, omega6 - 3g), carbohydrates 66g (sugars 24g), fiber 10g, salt 2g, cholesterol 0g.
Allergens: soy, sesame seeds.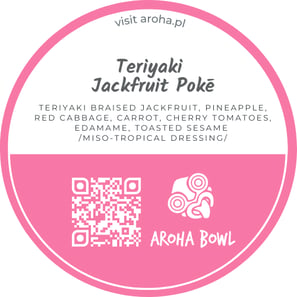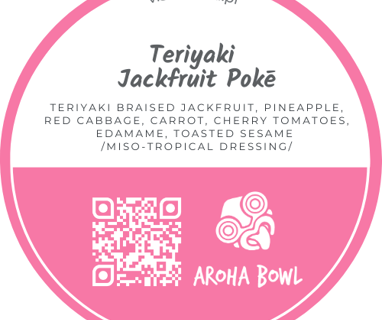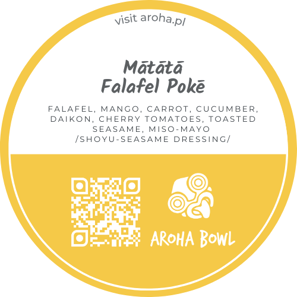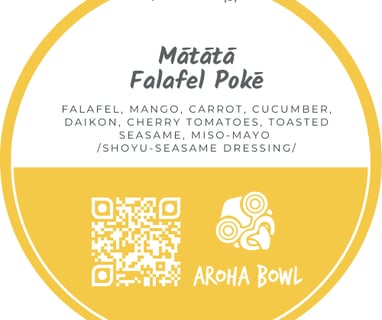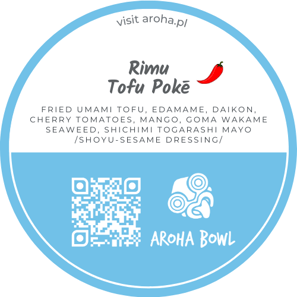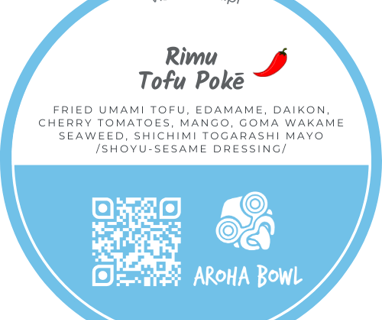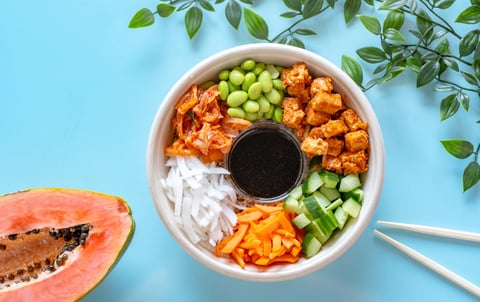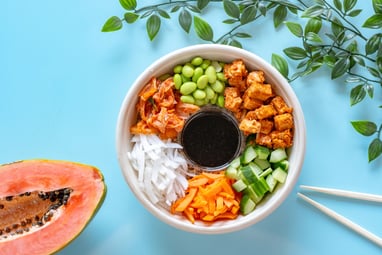 Register - we will send you a code
Don't miss this opportunity to take advantage of a special offer for Women in Tech Summit attendees! Leave your email and you will receive a gift - a discount code for your future purchases. Don't hesitate, this offer ends soon!
Aroha Bowl is the place with the best pokē bowls. We dreamed of bringing Pacific cuisine to Poland and we succeeded! We have for you dishes that not only look great and taste wonderful but also carry a piece of the culinary culture of the antipodes.
We offer delicious bowls consisting of Famous Aroha Rice, quinoa or sushi rice, fish or vegetable options, a matching composition of fruits and vegetables and proprietary sauces. Of course, we encourage experimentation - our guests can build bowls according to their own ideas.
When arranging the menu, we took care to ensure a balanced composition of macronutrients and reasonable calories.
All our packaging is environmentally friendly.
You can order Pokē bowls from Aroha Bowl with delivery directly from our website - our drivers will deliver them within most of Mokotów and Ursynów.
Our specialty is fulfilling even the most demanding orders for corporate events, conferences and film sets.
Aroha means "love" in Maori.